With more than a decade in the business, Quickly Locksmith has been keeping Miami safe for years. We work with customers to care for residential, commercial and new construction properties, as well as automobiles, yachts and boats. Over the years we have gained valuable experience in our local neighborhoods so that we can offer up-to-date information on current threats as well as new products on the market that can help combat crime.
Reliable licensed locksmith in Miami:
We specialize in high-end modern security systems, panic rooms and devices, locks, safes, control systems, smart locks and much more. Despite offering the very best technology available with an unequaled level of service, you'd be surprised to know just how cost effective we are.
All of our professional technicians are qualified, certified and insured to ensure you receive the best possible service. Just as out name suggests, we can get to you quickly in an emergency, promising to arrive within 15-minutes of receiving your call, day or night.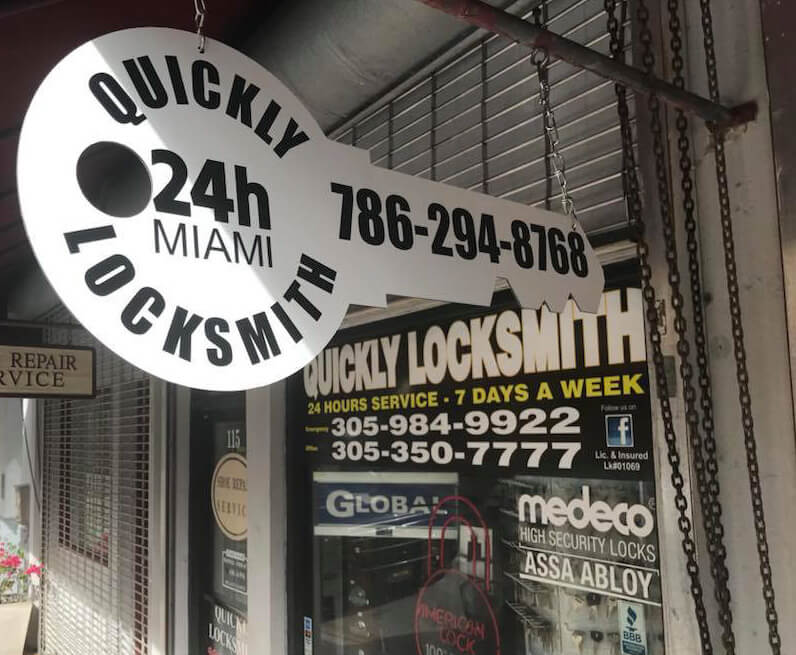 Trusted:
We have worked with some of the largest commercial properties in Miami to design and install security systems, locks and safes. Icon Brickell, One Miami, Four Seasons and Icon South Beach, to name drop a few…  We're trusted by large organizations such as these for good reason – we offer competitive prices with unparalleled service.
Your lock locksmith:
It's not just big businesses that trust us though and we regularly work with residential customers for lower scale jobs. We like to provide a friendly service so why not come along to out store and check out our affordable line of products and services? We can even offer you a free, no obligation quote to improve your home's security!
There's only one call you need to make. Quickly Locksmith.