The Best Local Locksmith Company in Miami FL.
Trusted by Miami's Businesses & Residents.
24-Hours
Emergency Locksmith Services
Miami FL.
Your Local Locksmith Experts In Miami
Benefit from our vast experience offering the best, most reliable, locksmith services in Miami.
Using the latest security technology, we solve your emergency as quickly as humanly possible.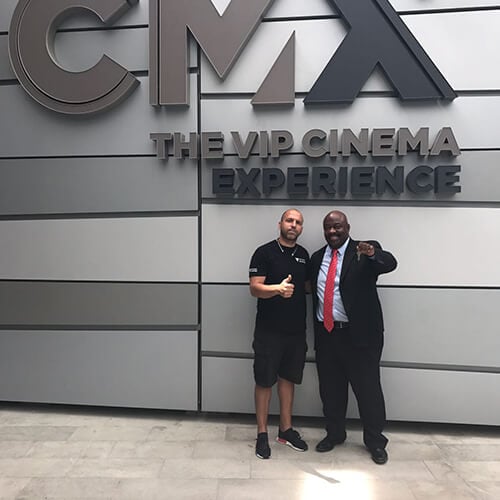 Customized security options combined with thoughtfulness towards your layout & atmosphere. We ensure your business is safe and sound with cutting edge security solutions at affordable prices.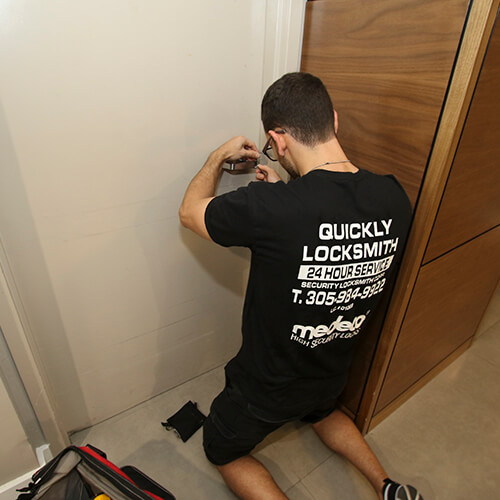 It's an emergency and you want into your home or you need to protect your home! You need a quick and affordable solution – We give you both.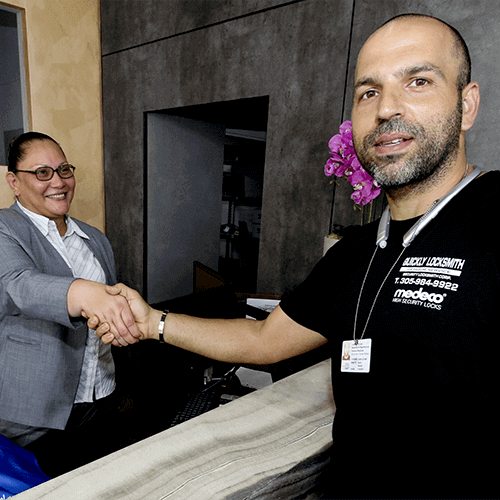 Keyless entry systems, security alarms and more. We've got you covered with custom solutions and pricing plans designed just for you.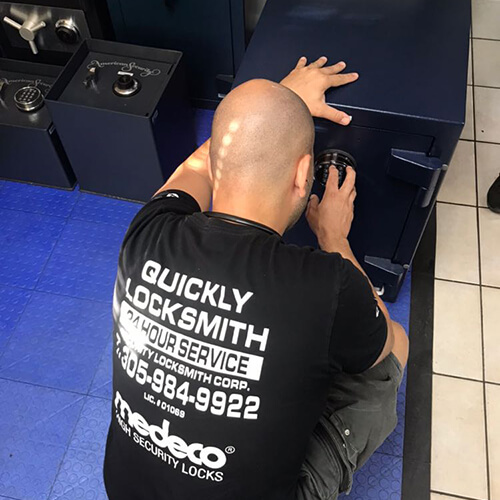 Whether you need a new safe to protect your valuables or access to an existing safe you've lost access to, we have the expertise to help you.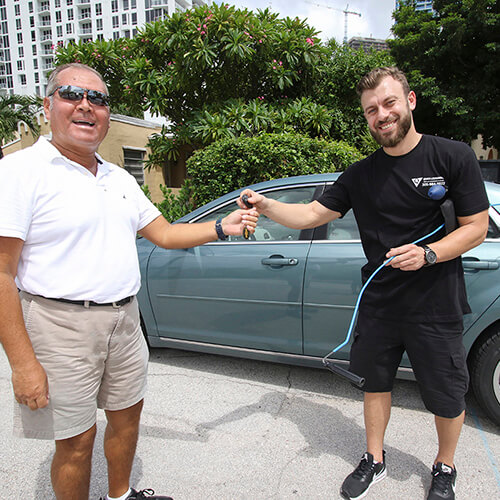 Locked out of your car or your car locks damaged? Contact us now and we'll respond within 15 minutes to organise a professional locksmith agent to get to you ASAP.
The Quickly Locksmith Miami Mission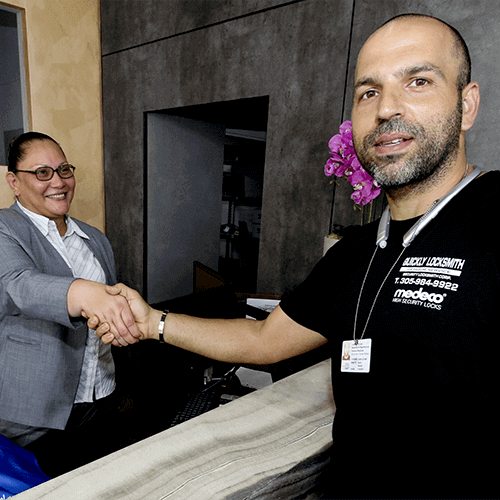 When you're stranded and locked out of your car or have serious security concerns requiring the re-keying of your property, a prompt response is essential. 
We understand the urgency of your situation and are committed to getting to you quickly and more importantly, providing you with the solution and peace of mind you desperately need.
We've equipped our physical shop and our mobile units with tried and tested locksmith tools and technologies. We represent the best brands in the industry including American Lock, Medeco, High-Security Locks, and Jet Hardware. 
With a passion for the locksmith business, your team of professional locksmiths is always on call — 24/7 to get you the results you need.
Whether you need emergency locksmith services in Miami or want to upgrade to a state-of-the-art access control system, our customer service, craftsmanship, and quality products are second to none.
You won't find a better locksmith in Miami FL! Just read the reviews.
Trustworthy Local Locksmith Services For Miami Homes and Businesses
You can feel confident that you are working with the best locksmiths in Miami. We work hard to ensure you are always satisfied with our services. In fact, our professional locksmiths go above and beyond the call of duty to earn and keep your trust with exceptional service in a fast time frame. We are the trusted choice among homeowners and businesses when searching for a reputable Miami locksmith.
Checkout Our Locksmith Reviews Here. Are you the general manager of a hotel or the property manager of a condominium that needs new doors, new frames, or a new set of hardware for your doors? If so, we can help you.
Not only do we make duplicate keys, but our showroom displays a wide range of products and services for your home, business, or automobile. We offer more than 40 different pieces of hardware including doors, locks, and even safes.
Deciding which company to call when you need someone to handle something as precious as your security can be difficult. We are fully licensed and insured with almost 300 positive reviews on Google.
We are the trusted locksmith you can count on!
WE PROVIDE 24 HOURS EMERGENCY LOCKSMITH SERVICES IN MIAMI FLORIDA:
The locksmith Miami businesses
and residents choose - Why?
Quickly Locksmith responds to your needs quickly. You are our top priority. 
You receive 24/7 emergency services, we dispatch a Miami locksmith to your location quickly. Our mobile locksmiths arrive with everything needed to do the job quickly, professionally, and correctly the first time.
Whether you need emergency or scheduled services in Miami, we can help. 
We can get you back inside and in no time, just call us on (305) 984-9922.
Are your keys broken or stuck? Our mobile locksmith units will respond and fix ASAP.
We'll reboot, replace and reset all alarms and locks at your residence so your safe and secure.
The Locksmith Miami Businesses
and Homeowners Love


"Exceptional service!!! We were in quickly and JC was very helpful and kind with our needs/problems. Will be coming back soon and highly recommend. Thumbs up!"


"Amazing service super friendly!!! Very fast I highly recommend these guys. In and out in no time and the prices are super fair!"


"Amazing service, quick and polite! I went to their new location on 2nd NE and definitely will be coming back for their help!"
Satisfied Locksmith Clients in Miami
let's talk about your security needs
Schedule a free consultation call with us to discuss your security requirements.
tips for finding the best 24 hours local locksmith services in Miami FL
Sometimes we tend to take the most important things in life for granted; your home security is perhaps the most important thing keeping you, your family, and your most valuable possessions safe!
So when you're looking for a residential locksmith service here are some valuable tips:
Ask your locksmith a few questions: Is he a certified locks installer? Does he have an actual address? What range of security products he's currently working with? Can he offer a full warranty for his services?
Your local Miami locksmith should know your area inside and out. His everyday job is to plan new installations to protect homes like yours and to solve emergencies in the neighborhood and surrounding area.
You don't want anyone taking advantage of you especially in an emergency situation. Emergency pricing should be simple and clear. If you need a new security system your locksmith should be able to give you ballpark figures.
Most frequent questions and answers
Cheap locksmiths can cost you a fortune. Most locks are not simple standard locks but are smart, strong and innovative. In order to properly handle the leading brands' locks and security systems, locksmiths require training directly from the manufacturer. Only the company who makes these locks can properly train locksmiths to fix & install them accordingly.
Today's security market offers endless options and products – all you have to do is choose. But be sure to choose wisely! Do your do-diligence and check around to see which locksmith's store has the best offers, the best service and of course the best reputation.
The good thing about smart locks and innovative security systems is they stand the test of time so you really don't need to worry about replacing and updating each year.
Doesn't matter if you need a locksmith for your car, home or business – when living in a huge city like Miami you need to make sure you have a trained professional working with you 24/7 who can respond and attend to your needs when the situation arises.
Security Audit – Better Safe Than Sorry: Ask any high-tech professional or web programmer what's their number one check-up before launching a new app/web/etc, and they'll all give you the same answer – security!
Your certified locksmith's work comes with a complete warranty for your locks, your property (doors/ hallways etc.) and of course his well being. If anything happens you share no liability, and your locks & security systems are 100% insured.
Need Some Locksmith Tips?
read our blog and get lots of tips and help for DIY solutions
Professional and Certified Locksmith Installers For All Top Locks Brands
Only The Best Locks Brands For Our Clients!