Schlage premium door locks balance beauty with security and results in a clean and elegant look that keeps intruders out. In addition to traditional door locks and deadbolts, Schlage also manufacture "Intelligent Security" products such as electronic and key-less entry systems that adhere to the same principle of offering excellent levels of security in a clean and pleasing look. That means whether you are interested in improving the security in your home or office, Schlage has a quality product to offer.
Remember, investing in the lock itself is just one part of the whole process and if it isn't installed well, it won't offer the security you expect from a quality product. All of our locksmiths are factory trained and certified, ensuring that your new installation, re-key, or a repair of your existing Schlage lock is carried out to the manufacturer's specifications.
Established in 1920:
Schlage continue to offer innovative solutions to security problems. As the leading locksmith in Miami, Quickly Locksmith only offer the strongest and most reliable products available. We have a wide commercial clientele who care about security but don't want to sacrifice on styling. Schlage locks absolutely fit that bill.
Their continued innovation and implementation of the most up-to-date technology all contribute to Schlage offering some of the strongest locks on the market. That's why at our local Miami locksmith store you'll find a wide range of Schlage locks along with expert advice tailored to meet your property's specific security requirements.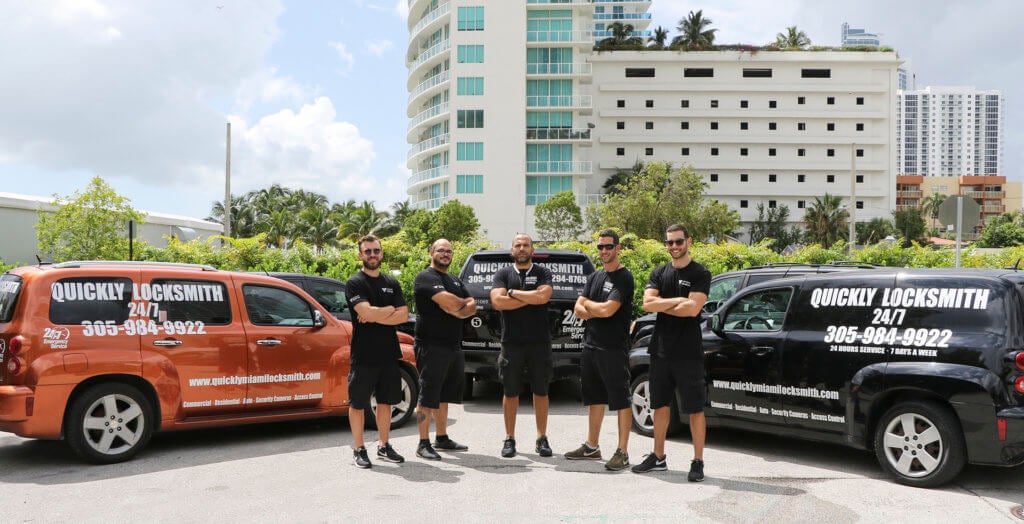 Do I really need a certified locksmith?
Absolutely. With a certified locksmith, you can rest assured that your new equipment is installed to the manufacturer's standards. At Quickly Locksmiths, our staff are expertly trained and fully insured, ensuring the highest level of service.
Need a Miami Locksmith? Look no further than Quickly Locksmiths.
You want everything to be as safe as possible, that's a given. As the leading locksmith in Miami, we work with commercial, residential and new construction properties. We've worked with all of Miami's largest business centers, giving advice and offering high end security solutions. All this means that we are able to offer bespoke services and advise to suit your exact need.
Need an emergency locksmith service?
We are on call 24 hours a day for support and can usually arrive within 15 minutes with all the necessary equipment in order to quickly solve any problem.
Lost your keys? Quick tips to open and locked door:
Most of us lose or misplace our keys from time to time and while it is a massive annoyance, it doesn't need to be a disaster. The key (no pun intended) is not brute force. Trying to break down the door or into a window will usually not work out how you expect and end up costing more money to replace or repair the damage you cause. Instead, you should call an expert who will be able to help with the right tools, often saving you money at the same time.
Assess your property's various entries:
If you do try to enter yourself, start by taking a look around for an unlocked window or door that you can safely open. Some older style locks can be opened be opened using credit cards or by inserting a sharp object inside the lock's pins and shaking. If this does get you back inside, that's great, but if you can do it, someone else can too and you should definitely consider improving your security.
Spare key?
It might simple, but it's surprising how in a state of panic you might not think of it and it really should be the first port of call. Does someone have a spare key? Can they help?
Locksmith near me in Miami:
If you can't get a hold of someone with a spare key and you haven't been able to find a way into your property without causing damage, a professional locksmith will be able to offer the best advice in order to move forward.
Quickly Locksmith's qualified technicians can usually arrive within 15 minutes of your call to help. Once we've helped you get back inside, we also offer an on-the-spot key copying service so you can hopefully avoid this annoying situation in the future!