Access Control Systems Designed Specially For You.
Why Choose SALTO Systems For Your Business?
Optimized for special facilities
Smart access control platform
Changing access plans easily
Flexible management system
Revolutionary access control
Full control of your doors & gates
Tailor made & wire free systems
Our innovative solutions include two core technologies we've developed: SALTO virtual network and SALTO BlUEnet which allows any user maximum comfort and minimum operational effort, in other words, we work hard so you don't have to! Using our cutting-edge tech guarantees you don't have to constantly worry about updating users and changing their access, you don't have to worry about worn-out cards, and reissuing them every week. The wide varied clientele experience also gives us a lot of information on how to handle any issue.
The comfort of our

SALTO KS app

– available at your service (and your employees/guests) 24/7. Don't wait up for anyone to update / re-issue / validate your entrance and navigation options as now it's all available online. Our users enjoy supreme comfort and control via their own smartphones. Essentially your phone is your entrance card, and all that entails (lock / open / re-defining restricted areas / remote control, etc.)

Increased security

– one of the reasons we're the leading bull of the digital access herd is our impeccable defense code; we know that as managers you have to look out and be aware of intrusions within, almost as intensively as you watch out from harmful strangers. Our defense code is practically unbreakable and extremely adaptable; users can be updated/blocked from anywhere, anytime, effective immediately, as well as updating certain doors.  

Wireless tech

– SALTO won't waste a minute of your time with wiring and restructuring entrance & exit points; our wireless tech is designed to collaborate and install easily on any door, using its original rosette holes or on any fire & smoke protection doors.

Danalock platform

– real-time remote control! Using the Danabridge allows admin users to live control and real-time data extraction from anywhere, anytime. Basically, you can get info regarding any deliveries/services/meetings going on in your property even when you're across the world.

Easily updatable flexibility

– wirelessly make any change for greater convenience.
There's a smarter way to control your business access
Let Our Experts Install Your System
Our technicians are on a standby 24/7, waiting to assist you!
We will have your SALTO system perfectly installed and tailor made tuned with all of your security needs and requirements.
Choose your access control System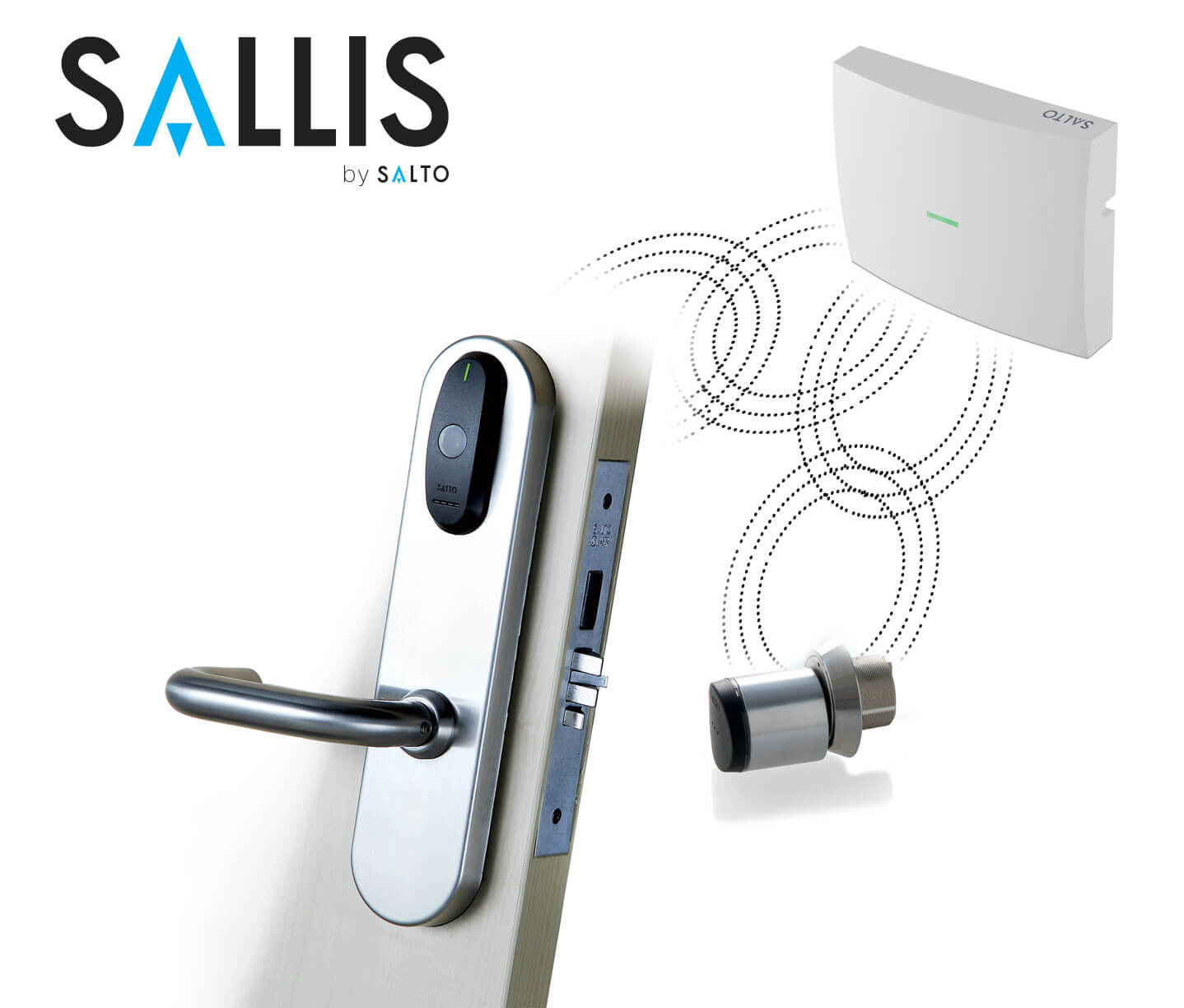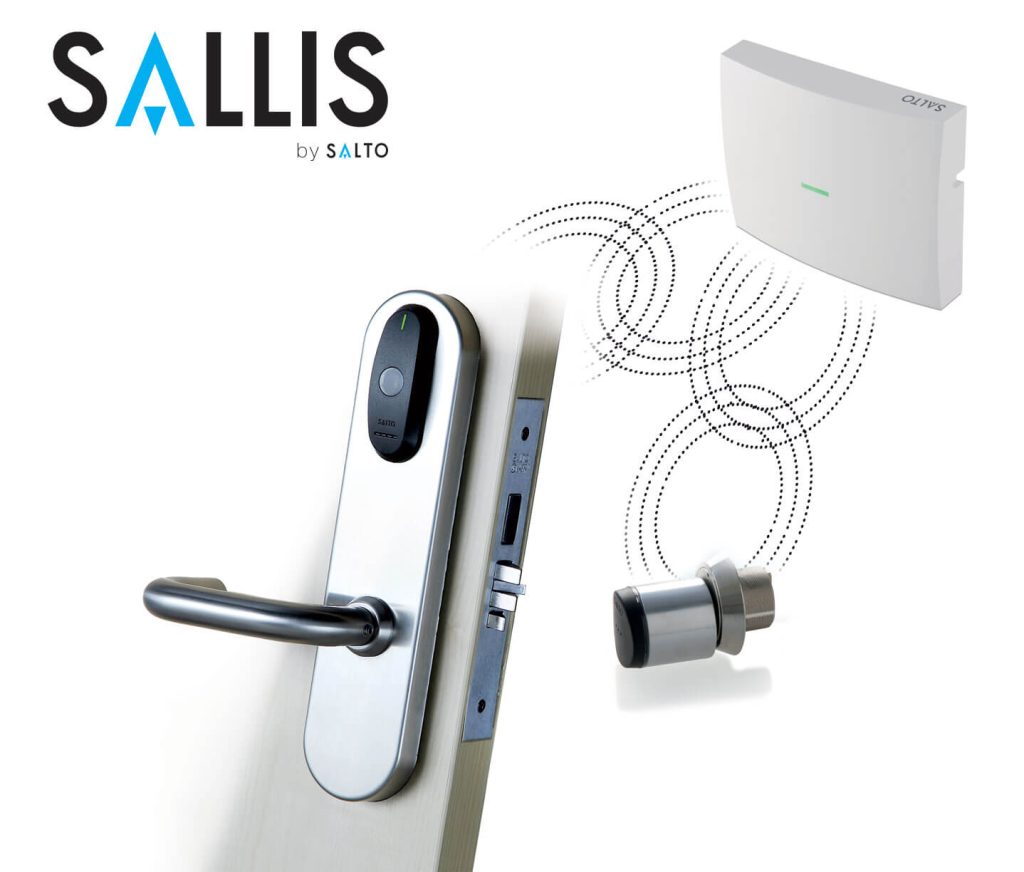 SALLIS by SALTO combines online and real-time technology, which allows you to enhance the security and gain control over nearly every door within the complex, as well as monitor and control each user.
Its proven reliability and recognized stability brings wireless access control to every business, providing vastly better functionality and performance than is possible in a traditional mechanical solution with a flexible management system that requires no software installation nor the cost of a fully-wired electronic product.
Don't walk along the herd, lead the way simplicity, comfort, effortless Easily updatable, simple online conversion of any door into an updating point!
An overall huge leap forward in terms of managing properties, maximum control, and convenience – SALTO is not your simple smart lock / your online managing app or your restricted entrance guard; it's your key to a brighter future where you sit back and manage. Let our tech take care of the rest. Amongst our wide varied clientele you could find:
Massive and Boutique hotels:
What could be more comfortable than offer your guest a simple entrance based on their own smartphone? No lost keys, no worries about guests passing their cards on to the next person they meet or even worse- key cards get stolen, no need to worry about the maid (or any other worker for that matter) forgetting to lock up. Working with us you can manage all suppliers/workers online with no hassle while offering your guests advanced comfort before even saying hello.
Condominiums / Apartment Buildings / Residential properties / property managers: 
One tenant would like to rent out space in your property for a month, while ten others would just like a daily use for a professional conference and you have other properties in other cities; with SALTO you hold all the cards, doesn't matter where you are- once you've defined a user capacity he (or she) would have to go through you to change and adapt so when their rent is done their entrance is restricted, when they're gone they can simply pass the key and host their heart out if you scheduled a daily usage you could even restrict entrance at any hour of the day. SALTO could easily adapt according to each and every tenant lease terms, making you not only adaptable to any change a tenant might request but also in complete control of any violations under your roof.            
Hospitals, government/facilities:
A gym, an office, a hospital, a government official institute – what they all have in common? Want a minute to guess it or… ok we'll tell you- places that need to fit the capacity of a huge number of daily visitors (who should only have access to certain places and shouldn't access restricted areas) alongside staff who needs different access, and of course it's ever-changing… that's why wireless adaptability is key for proper management. We wouldn't even toy with the idea of a patient wandering around the hospital doors.
Businesses/shops:
Needless to say – your employees shouldn't have the same access as your clients, and no wondering eyes should find an easy way to access the offices/storage, etc.
SALTO supply real-time restrictions and control; the minute you decide to let a worker go, he's immediately deleted and there's no room for hassles.  
Manage all your facility security in one smart place
let's talk about your security needs
Schedule a free consultation call with us to discuss your security requirements.
Or call us now 24/7:  (305) 984-9922
Check out our blog, for more DIY solutions, insights and locksmith tips.
Check out our FAQ page for more help about any locksmith/security questions you might have.