Choosing a high-quality lock and key system from a brand such as Medeco is an important decision for anyone looking to improve their home of business security. However, it's equally important to ensure that your new purchase is backed by the expert installation offered by a Medeco certified locksmith.
Affordable and reliable make them a smart choice:
Medeco are one of the largest security companies around and their products offer a unique combination of mechanical and intelligent security. What's more, all Medeco products are flexible enough to be installed in a wide range of locations, be it residential or commercial.
Due to their innovative technology, Medeco has garnered fame and respect. Their electronic smart locks feature advanced options based entirely on your specific need: time control, detailed reporting along with the ability to add or remove keys on the spot meaning they can face any security challenge head on.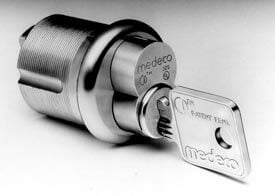 Factory trained and certified:
At Quickly Locksmith, the leading locksmith in Miami, all of our staff are factory trained and certified to use and install Medeco security products. Throughout their certification, our locksmiths are immersed in all aspects of the products, including Medeco 3 cylinder technology, mastering the inner workings and nuances of the products and learning the best way to install them. This certification is proof to you that we possess the skill, knowledge and expertise to ensure all the advanced functionality of Medeco products.
Looking for a certified locksmith near me:
Coupled with the excellent service we offer at Quickly Locksmith, Medeco's products are an excellent choice! When searching for a locksmith near you, make sure we're at the top of your list. Our work is fully insured and we only use the most qualified and experienced locksmiths.