No matter where you are in Miami, security should always be a top priority. If you've been searching for new ways to secure your residential property or commercial building, you may have stumbled across mentions of high-security locks.
In this blog, we will look at what high-security locks are and decide if they're worth your money.
High-Security Locks 101
To better understand what a high-security lock is, let's look at their traits:
High-quality metals are designed to withstand hard impact, which is why high-security locks are heavier than others. Even if it's designed to prevent picking and drilling, a traditional lock that's made with cheap metals and plastics is pointless.
Drilling is a common way for criminals to access a home or building and once a lock is drilled, there's no going back. Drilling takes very little physical effort, which is why it's a preferred choice for gaining entry. High-security locks have anti-drill plates and steel ball-bearings to prevent criminals from accessing a property using a drill.
Along with using high-quality metal, these locks have stronger bolts too. The stronger the bolt, the harder it is for criminals to use a hammer or battering ram to enter. These superior bolts are designed to withstand brut strength. In fact, it can even stop criminals from sawing the bolt in half.
Key copies are necessary, but they're also one of the most common ways for criminals to easily access a home or building. Every key copy you have increases the chances of criminal activity. High-security locks have patented keyways, which means only specific machines can make key copies.
Are High-Security Locks Worth It?
The answer to this question depends on your needs. If you want extra protection, but would prefer a more affordable solution, high-security locks may not be the right option for you. If you don't mind paying a bit extra to protect your financial assets, we highly recommend considering high-security locks.
It's important to keep in mind that high-security locks still need to form part of a comprehensive security plan. Your doors might be more secure, but this won't stop criminals from using other entry points to gain access to your home.
When considering changing locks, it helps to get a locksmith to evaluate your home and property. This way, you gain a better understanding of security weaknesses and other solutions you should be considering.
High-Security Locks for Homes in Miami
High-security locks have the ability to boost your security at home. They're particularly useful if you have valuables in a specific room that you want to protect.
However, only installing high-security locks is not enough for a residential property. More often than not, criminals gain access via windows and sliding doors too.
Miami homeowners should also consider deadbolts, security cameras, and outdoor sensors. This way, it will be much harder for criminals to reach your home, let alone get inside.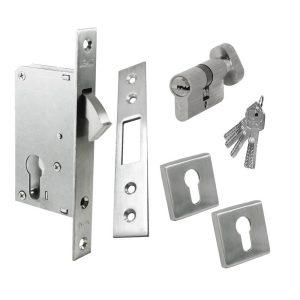 High-Security Locks for Commercial Properties in Miami
Commercial property owners can take a slightly different approach in terms of security. Only installing high-security locks makes more sense, mainly because the building already has other measures in place.
From commercial metal doors to tamper-proof glass, most commercial properties are already relatively secure – high-security locks simply enhance their security.
Depending on the lock brand you choose and the number of doors you want to secure, the cost of installing high-security locks is manageable. Rekeying is the only other ongoing expense to consider with these locks, especially if there is a high employee turnover rate.
On the plus side, high-security locks rule out the risk of employees copying keys because of the specific machinery that's required.
High-Security or Not?
High-security locks are impressive, but whether or not they're right for you depends on your specific needs and budget. What's more, installing high-security locks on poor-quality doors also isn't much use – something else to consider as you make your decision.
Whether you decide to install high-security locks or make different upgrades to your home or office security, think twice about the locksmiths you use.
Contact Quickly Locksmith if you need a professional opinion from a reputable team.