Moving into a new home can be exciting but it will always require a lot of planning and coordination, particularly if you already have a busy schedule. Of the many things people need to consider when planning a residential move, security tends to show up relatively low on their to-do list.
When focusing on moving from one home to the other, it's easy to forget that you're exposing your movements and property to potential burglars. It's one of the few times you're allowing people to see exactly what you own. Access to your new Miami home is also a weak spot, at least until you take the necessary steps to make your home more secure.
How to Secure Your New Miami Home
According to Neighborhood Scout, Miami has one of the highest crime rates in the USA amongst cities of a similar size. The chance of you being affected by property crime is one in 24.
By taking the necessary steps to secure your new home, you can enjoy greater peace of mind. Here are some of our top recommendations.
This should always be at the top of your list when you're moving to a new home in Miami. It might seem like a simple step, but it's one of the most effective ways to start securing your sanctuary. You never know who might have a copy of your house keys, including handymen and realtors. It's also not impossible for key copies to end up in the wrong hands. For this reason, it's highly recommended that you change the locks on all outside doors before you move in. We can help you with this process. We can help.
There's a good chance you're going to use your garage as storage, particularly when you first move. To begin with, don't leave your garage door standing open for prolonged periods of time, you never know who might be paying attention. Next, secure your garage door by reprogramming your remotes and keypad if there is one.
Hang Up Curtains and Blinds
One of the first things you will want to do once you're in the house is to hang up curtains or blinds. This will prevent passers-by from seeing what you have in your house. The more opportunities you give potential burglars to see what you have available to steal, the greater the chances you will become a victim of theft.
It's always better if you can install an alarm system before you move in but as long as you install one as soon as possible, you're already much safer. There are a number of security systems on the market today and we're happy to help you with a few recommendations. Don't forget to display a security system sticker on a window and outside walls to deter potential burglars.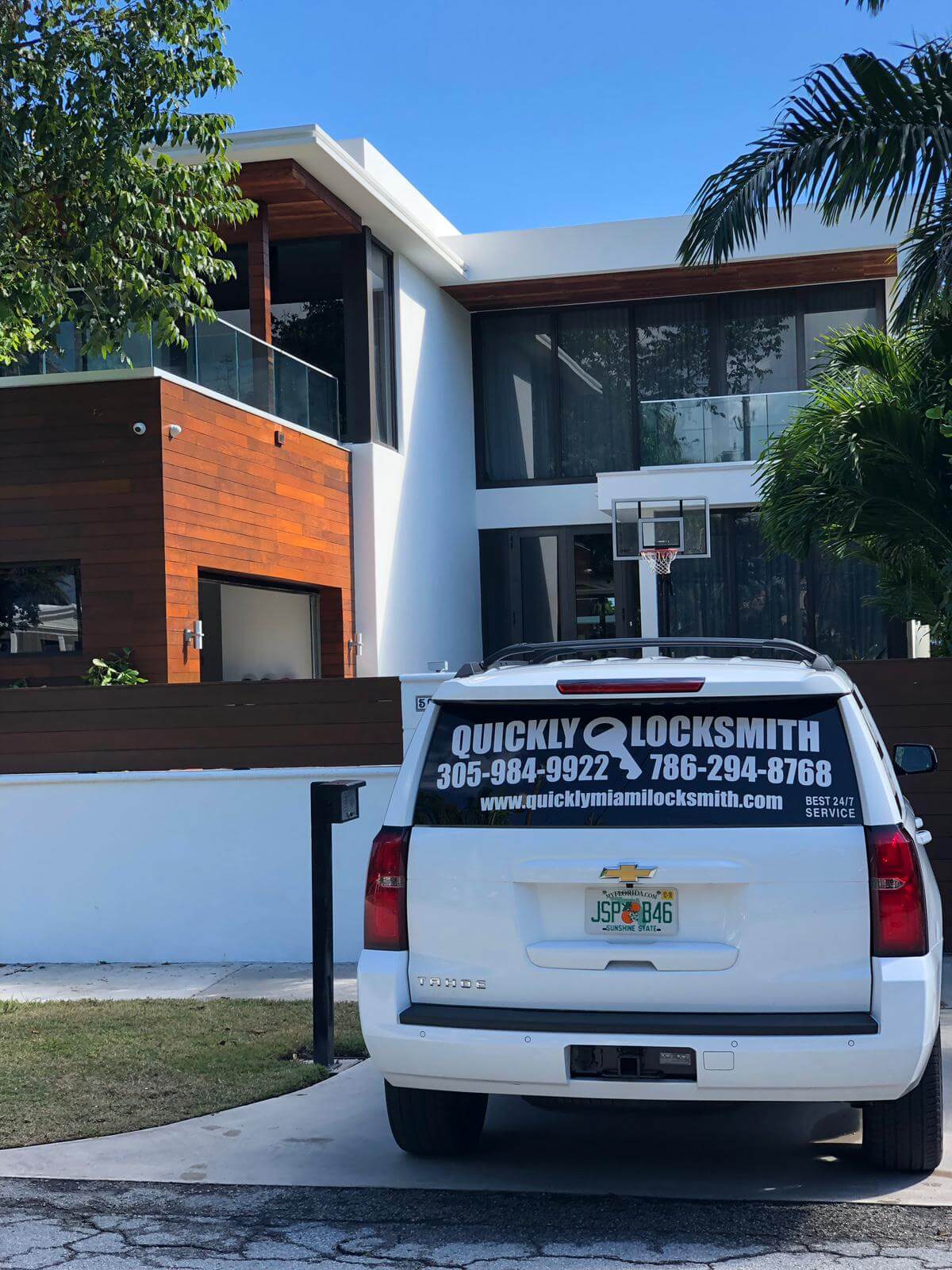 Bonus Security Tips for Miami Residents
Once you have the basics covered, here are some additional steps that you can take to further secure your new home.
Invest in a video doorbell. You won't believe how many burglars ring a doorbell before they rob a home. By installing a video doorbell, you will always know who is or who was outside your house. It will also allow you to speak to visitors who aren't meant to be there, which will help deter any potential burglars. Many of these can be operated even when you are miles from your home and many offer the facility to record every visit to your home.
Add timers to your lights. A burglar doesn't want to be visible or get caught, so they tend to stay away when they know people are home. By putting your lights and television on timers, you can ensure that it always looks like someone is home.
Motion detector lighting works well too. If you want an added sense of security at night, install motion detector lighting in vulnerable areas. This way, anyone who enters your property will be met with bright floodlights, making it impossible for them to hide or enter your home. Motion detector lights are also a very economical security solution.
Clean up your yard. There's nothing better than being able to enjoy the outdoors in your own backyard. However, a property that isn't landscaped creates many hiding places for criminals. If you have hedges and shrubs in your yard, make a point of keeping them trimmed. If you're planning to plant any bushes near your windows, opt for something thorny.
There are a number of ways that you can feel more secure in your new Miami home and it all starts with getting an expert to assist you with the basics. We're here to help!