The holiday season is nearly upon us, which means spending a lot of time with family and friends, and potentially taking a well-deserved vacation.
A lot of people are away from their homes over the December period, which is why break-ins and theft tend to increase during this time.
It is essential that you do everything possible to secure your home both inside and out before you pack the car and drive away.
Even if you stay at home, it helps to be aware of and prepare for some of the things that could go wrong.
The Most Common Holiday-Related Claims
Before you start planning your December period, it is highly recommended that you review your Miami homeowner's coverage.
*Insert Image
Here are some of the most common claims that tend to come through over the festive season:
Theft. If you are the victim of theft, your personal property insurance should cover the loss if the items are worth more than your deductible. Coverage for expensive items is usually trickier, so speak to your insurer about any items with a particularly high value.
Fire. Since house fires are such a common holiday-related mishap, it is best to ensure your home has sufficient coverage.
Property Damage and Injury. Once everyone starts having fun at gatherings, it is not uncommon for injuries and property damage to occur. If you plan to host a few elaborate holiday parties, personal liability coverage is recommended.
Credit Card Fraud. A lot of credit card fraud takes place at this time of the year, so check with your homeowner's policy includes coverage for this.
Steps to Help You Protect Your Home During the Holiday Season
Notify the Authorities of Your Travels
One of the easiest steps you can take to protect your home during the holiday season is to let your local Miami police department know you will be out of town. This generally involves submitting a form with the dates you will be away. You can also indicate whether there will be any pets or vehicles on the property. This won't prevent crime completely, but at least your home will be checked intermittently.
Pause Mail and Deliveries
An overflowing mailbox or a package sitting at your front door for days is a clear sign that nobody is home. If you can't stop all mail and deliveries during the December period, ask a friend or neighbor to help you out by collecting once a week. USPS also has a hold mail option that you can take advantage of. Ordering from Amazon? You may want to give Amazon Locker a try. This will keep your package and your home much safer.
Arrange for a Security Audit
Arranging a quick security audit can help reveal any security weaknesses. From door locks and lighting to alarms and security cameras. Having extra security measures in place can give you some much-needed peace of mind over the holiday period. This doesn't require a complete security overhaul either, you might just need to make some small upgrades or adjustments. Installing motion sensor lighting and environmental sensors are two top recommendations, as is changing to high-security locks.
Consider Lawn and Home Maintenance
If a garden services or a pool company usually comes to your Miami home every week, don't cancel. A garden or pool that starts looking unmaintained will signal to criminals that someone might be away.
Place Valuables in a Safe
It makes sense to leave valuable at home, but this doesn't mean you shouldn't secure them. If you plan to leave money and jewelry behind while you travel, rather place them in a safe. When done by a professional, installing a safe is quick and easy too. There is a large variety of sizes and features to choose from.
If you usually leave a hidden key for a friend or family member while you are not in town, this is the time to move them inside. Thieves will be more on the lookout for hidden key spots during December than any other time. If you need someone to check in, give them the key directly.
Consider Using Smart Lights
Want to make it look like someone is home while you are away? Consider using smart lights, which turn on and off at scheduled times throughout the day and night. There is generally also a vacation mode setting, which makes the light schedules more random.
Watch What You Post on Social Media
Naturally, you want to share your holiday experiences with your friends and family, but there are a lot of strangers on social media too. If you do want to post online, check your privacy setting and don't give every little detail away such as when you plan to leave and return.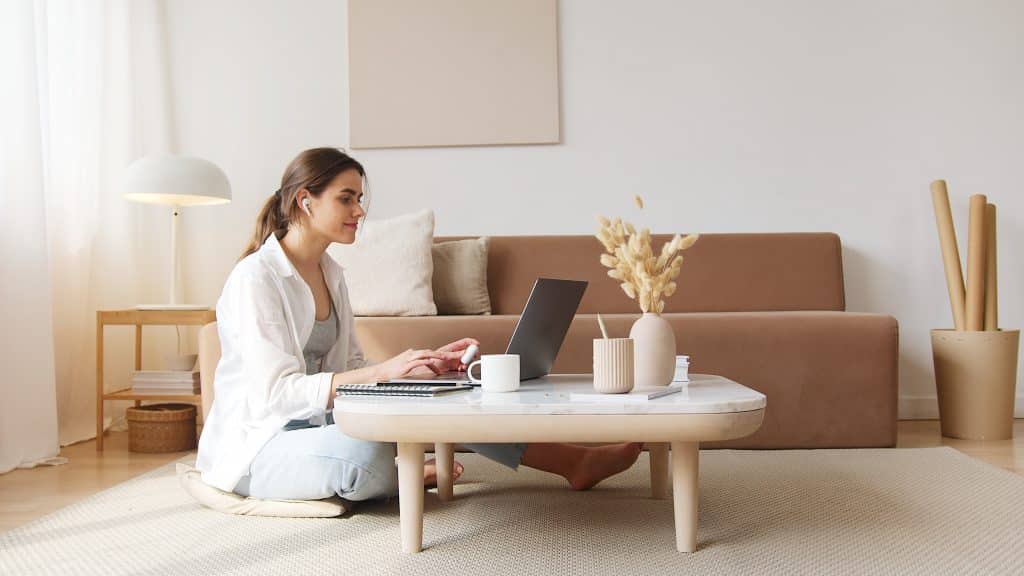 Consider Installing a Smart Doorbell
Smart doorbells offer extra security, plus they are a convenient tool for the remainder of the year too. Not only can you speak to people remotely, but some models allow you to play pre-recorded responses. Some smart doorbells even work with smart locks, allowing you to give access to people remotely. Here are some simple ways to turn your home into a smart home.
Alexa has the ability to play pre-recorded conversations during the day, fooling potential thieves into believing someone is home.
Shut Off Your Water Supply
If anything happens to go wrong while you are away, shutting off your water supply could save you a huge bill. Flooding can also potentially ruin your home, resulting in additional repair and restoration costs.
In Closing
Vacations should always be fun and stress-free, but the reality is that it is still a prime time for thieves to target your home. Most of these steps are easy to implement and others require a bit of a financial investment. Making small upgrades to your home is a long-term investment though and well worth the time and cost.